This where you can post ideas for achievements.
I have one:
Name: Blistering Barnacles
Rewards: Barnacle Staff
Completed when: You destroy 100 barnacles in the Shoot-A-Pirate game.
Another one:
Name: Conquering Necrophobia
Rewards: 10,000 coins
Completed when: You destroy 1,000 infected astronauts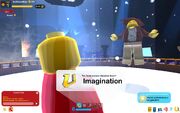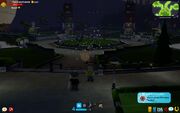 and another:
name:Back to Doom
rewards:1,000 coins,spiritual blaster
Completed when:you destroy 100 maelstrom spirits
TheTurkeyBoy's Ideas
Name: Meet Thy Maker
Rewards: 100,000 coins, 1,000,000 xp, Special Item
Completed when: You meet the Maker or Administrator
Name: Security Officer
Rewards: 100 coins, 100 xp
Completed when: You meet a Moderator
Ad blocker interference detected!
Wikia is a free-to-use site that makes money from advertising. We have a modified experience for viewers using ad blockers

Wikia is not accessible if you've made further modifications. Remove the custom ad blocker rule(s) and the page will load as expected.